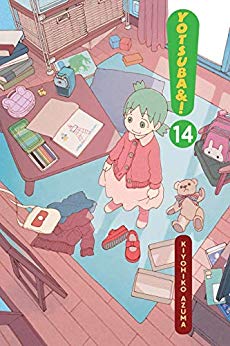 It's been years since I read a volume of Kiyohiko Azuma's
Yotsuba&!
, and even longer since I've
reviewed
one. Part of that is due to the author's extremely intermittent publishing schedule (there was a three-year gap between his last two books), but a lot of it was because it took me a long, loooong time to adjust to the editorial changes that took place between the fifth and sixth volumes, when Azuma's original publisher folded. But I'm mostly over those now—it's been a mere decade-plus—so it's time to give this series another enthusiastic shout-out.
If you've read any of the earlier installments of
Yotsuba&!
, you're good to go with volume 14. Azuma's series is technically sequential, but since his plot consists of the meandering adventures of his six-year-old protagonist, there's not a lot of complicated backstory. In this volume, Yotsuba visits Tokyo, practices yoga, and does some crafts. I know that makes the story sound ridiculously simplistic... but, well, it is. This is a series where an entire chapter might hinge upon how Yotsuba attempting to swipe a ticket at a turnstile, or choosing food at a buffet. Azuma has an astonishing gift for making these tiny, everyday interactions into something utterly hilarious and endearing, which is why people ranging from kindergarten to retirement age have fallen in love with this series. If you haven't already tried
Yotsuba&!
, I can't recommend it highly enough—it's a great introduction to manga, a wonderful depiction of both parenting and chosen families, and I'd put Azuma right up there with P.G. Wodehouse, Stella Gibbons, Allie Brosh, and Bill Watterson on my list of great humor writers.
No new comments are allowed on this post.